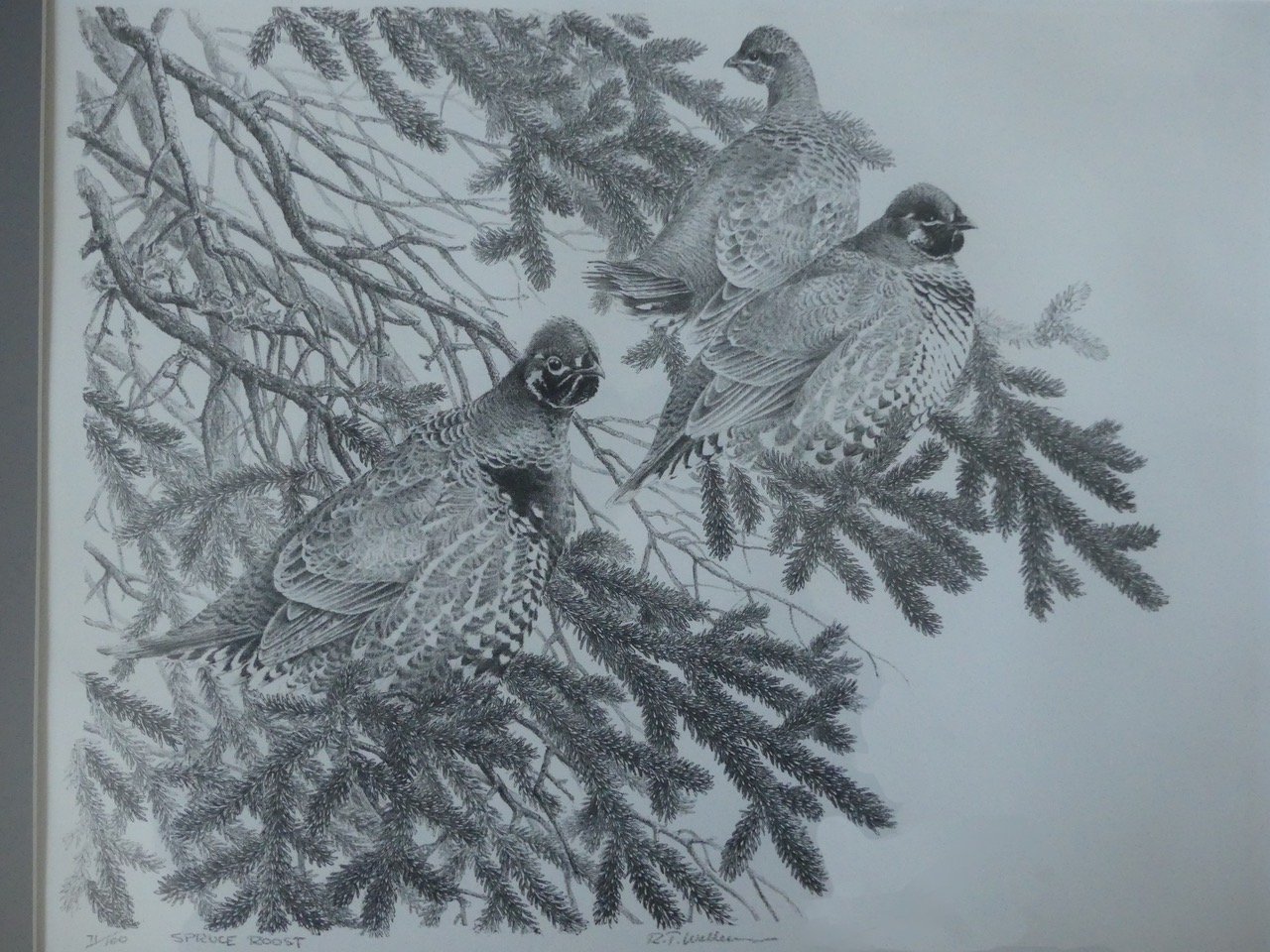 Stone lithography is an original printmaking method invented in 1796 in Germany.  An image is drawn with grease pencil or special wax crayon on a smooth slab of limestone ("litho" is the Greek word for stone).
Using the principle that oil and water don't mix, the printmaker wets the stone and rolls an oil-based ink over it.  The ink adheres to the greasy marks but is repelled by the blank wet areas of the stone.  Hand-made paper is laid on the stone, cranked through a simple press, and then carefully peeled off.  The inked areas show as black or shades of gray, depending on the pressure applied by the artist when drawing with the grease crayon.  The blank wet areas of the stone show as white on the print.  The stone is re-inked for each print.  The printmaker strives for consistent inking for a uniform edition, but there are always slight differences in each print.  Stone lithography is unique among original printmaking techniques in its ability to produce subtle tones.
Although stones have not been used for commercial printing for over 100 years, stone lithography is the antecedent of all modern lithography.  Wallen worked with noted fine-art printers  George C. Miller & Sons in New York City for his editions of lithographs.  More on stone lithography can be found at https://en.wikipedia.org/wiki/Lithography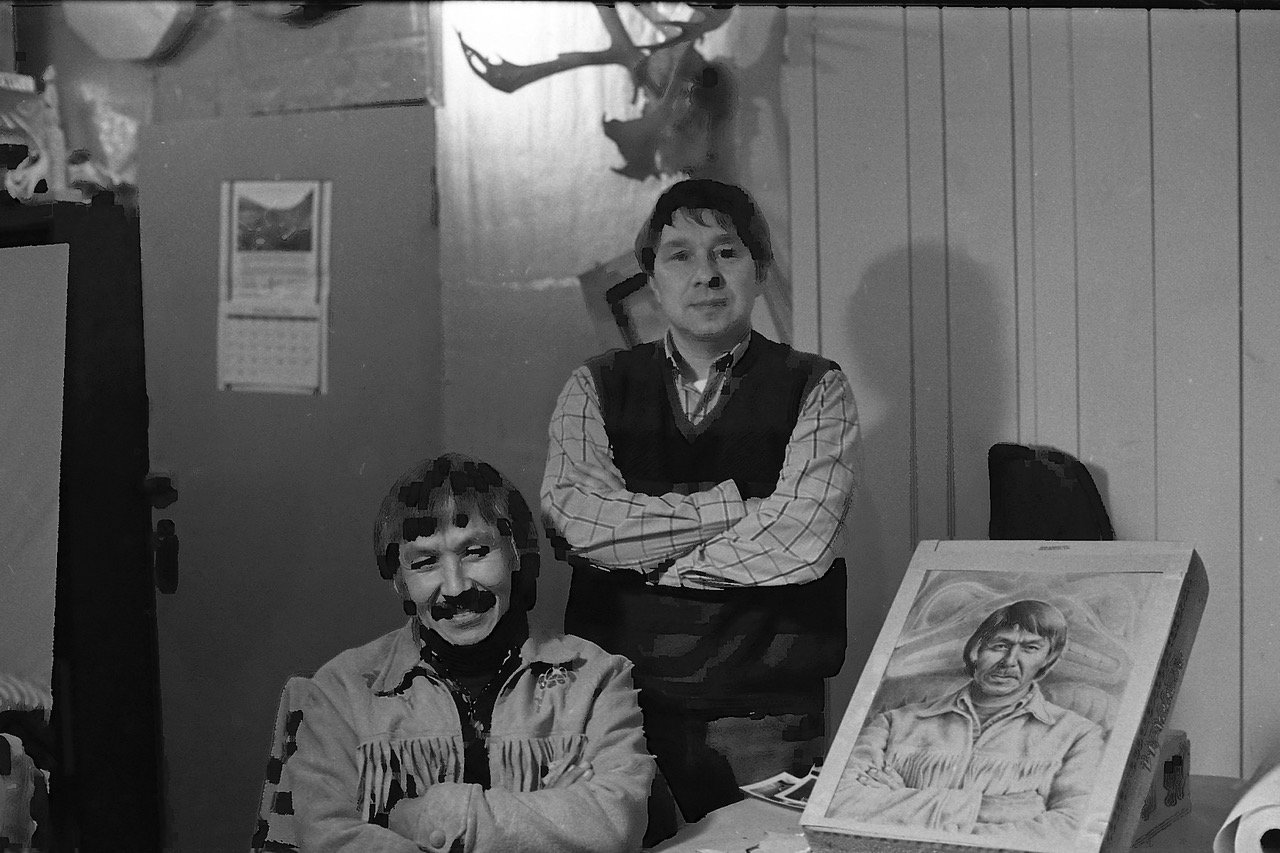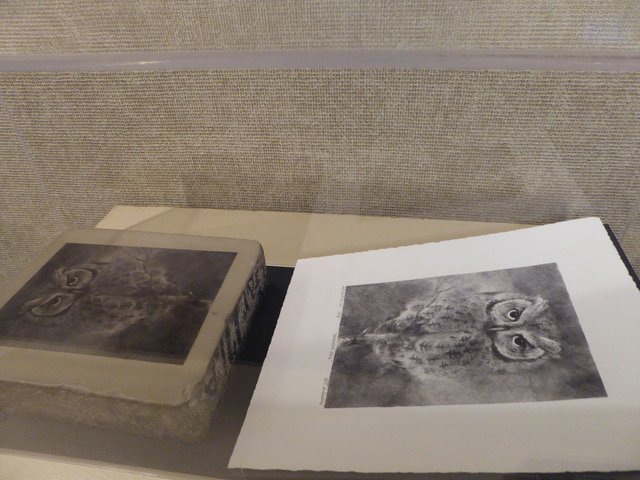 Most of Wallen's hand-pulled lithographs sold out upon issue, but a few are still available.
Contact WallenStudio1@gmail.com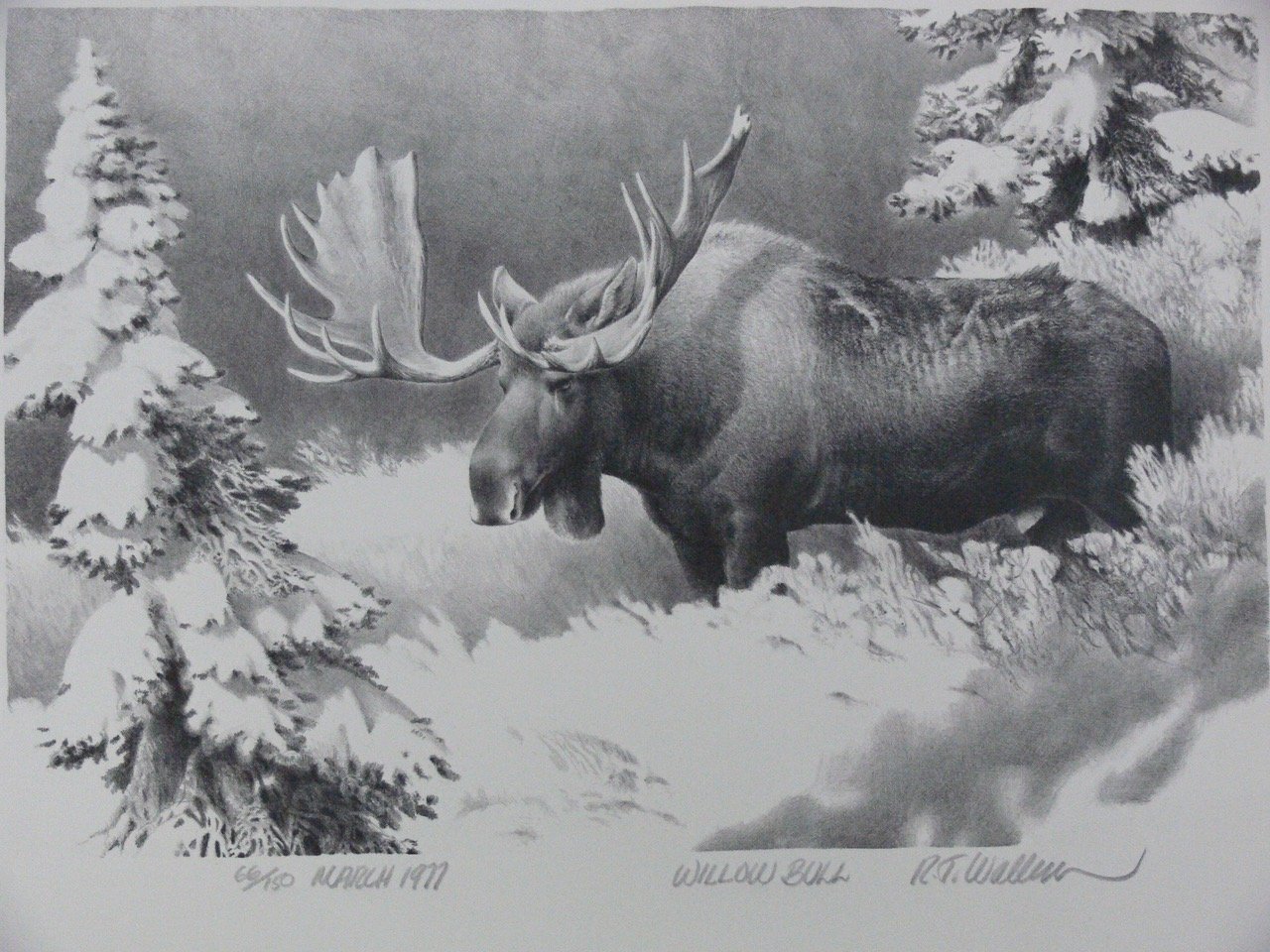 Willow Bull
Edition 150
A bull moose portrayed during the rut in the Alaska autumn.  At this time of year, bulls eat very little and spend their time seeking mates and, having found them, trying to keep them from other bulls.  Sparring and battles between bulls often ensue, and the clash of antlers rings through the air.  Bulls often enter the winter bruised, battle-weary, and in weakened condition.  For many years, Wallen made an annual autumn pilgrimage to Denali Park to spend weeks studying and sketching wildlife.
Approximate dimensions:
Paper size: 27" x 20 ¾ "
Image size: 21" x 14"
Price: $1750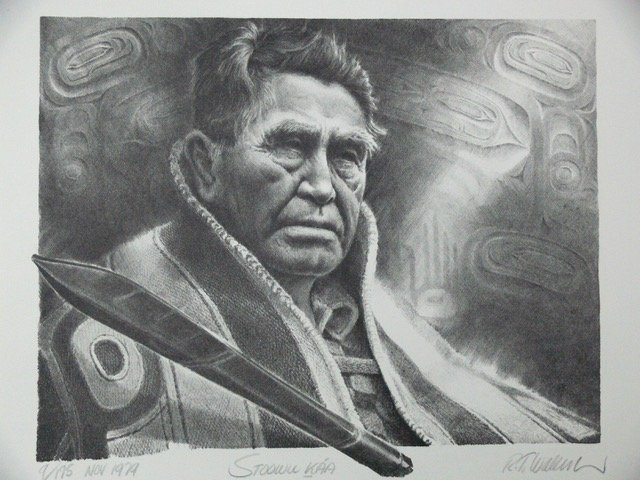 Stoowu Kaa
Edition 175
A second portrait of the artist's adopted Tlingit father, George Dalton, Sr., of Hoonah (the first was Peacedancer), of the Kaag Waan Taan clan.  He is wearing a Chilkat robe woven of cedar bark and mountain goat wool.  Biographies of Mr. Dalton and his wife were written by Lynn and R.T. Wallen in Haa Kusteeyí Our Culture: Tlingit Life Stories, Nora Marks Dauenhauer and Richard Dauenhauer, eds., University of Washington Press, 1994.
Approximate dimensions: 
Paper size: 22 ½ " x 20"
Image size: 18" x 13 ¾"
Price: $975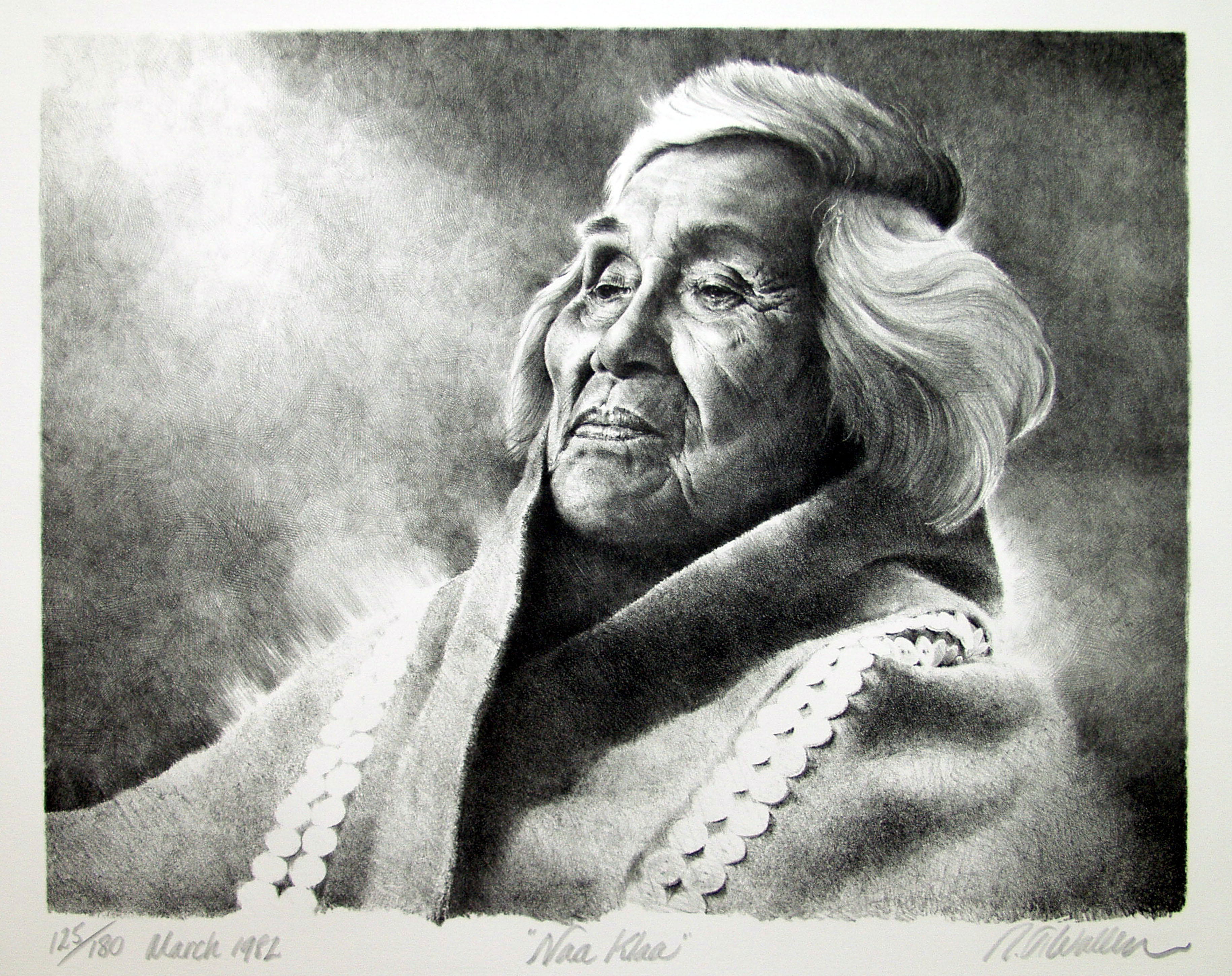 Naa Klaa
Edition 180
A portrait of Jessie K. Starr Dalton, a Tlingit woman of Hoonah, Alaska, wearing a Tlingit kaayakoot'i x'oow (button blanket) of wool felt and mother-of-pearl buttons. Her name Naa Klaa is also a title of respect referring to "mother of the Dak Dein Taan clan" of the Raven moiety. She was the adoptive Tlingit mother of R.T. Wallen.  The Dalton family later also adopted and named Wallen's wife Lynn and son Tor in a formal potlatch ceremony.
Approximate dimensions:
Paper size: 22" x 18"
Image size: 17 ½ " x 13 ½ "
Price: $850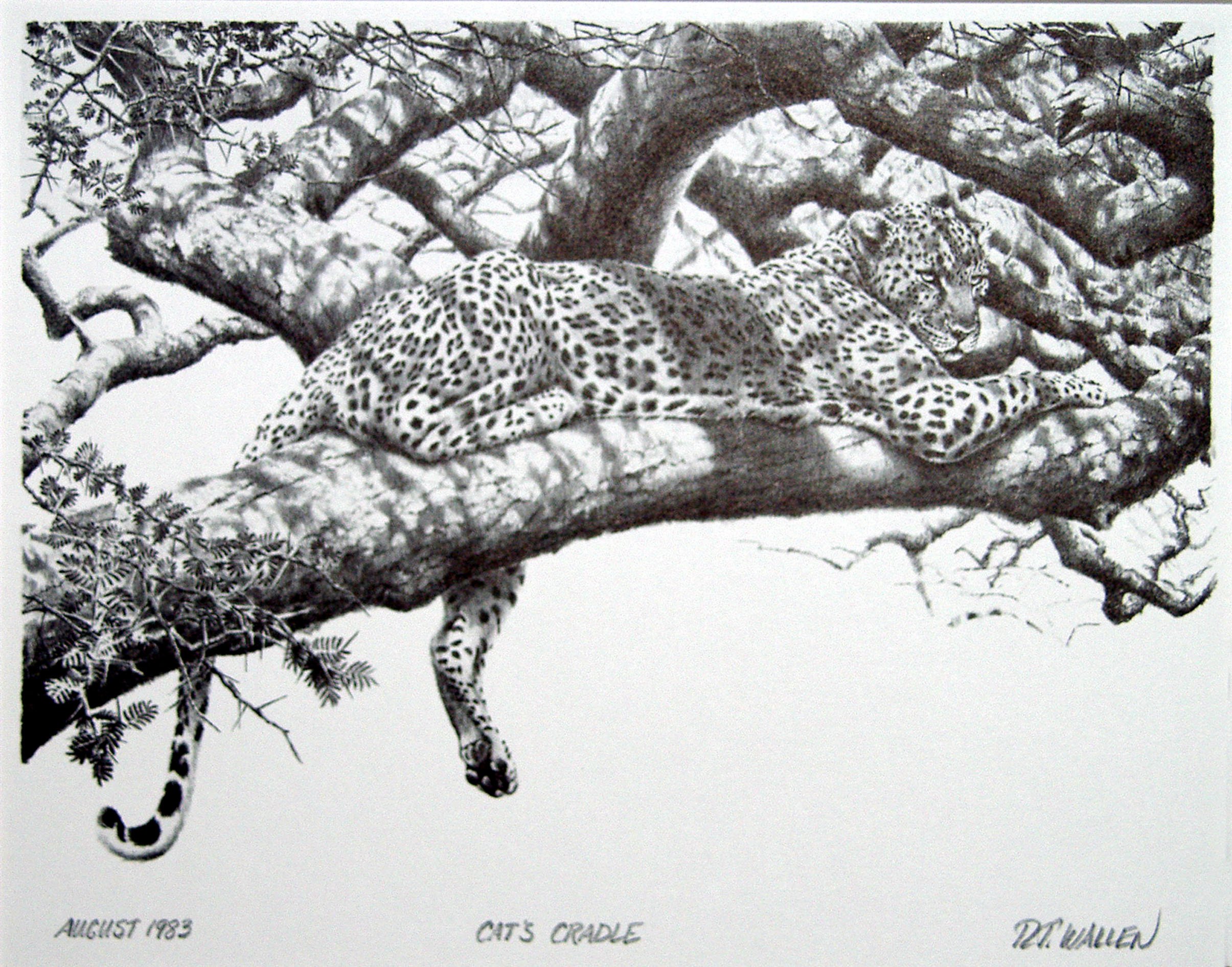 Cat's Cradle
Edition 175
One of only two non-Alaska subjects among Wallen's stone lithographs, this study of a Serengeti leopard resting in an acacia tree is based on field studies in Africa.  Wallen and his wife Lynn spent many months in Kenya (1979) and Tanzania (1982) studying wildlife.
Approximate dimensions:
Paper size 22 ½" x 19"
Image size: 18 ½" x 14"
Price: $975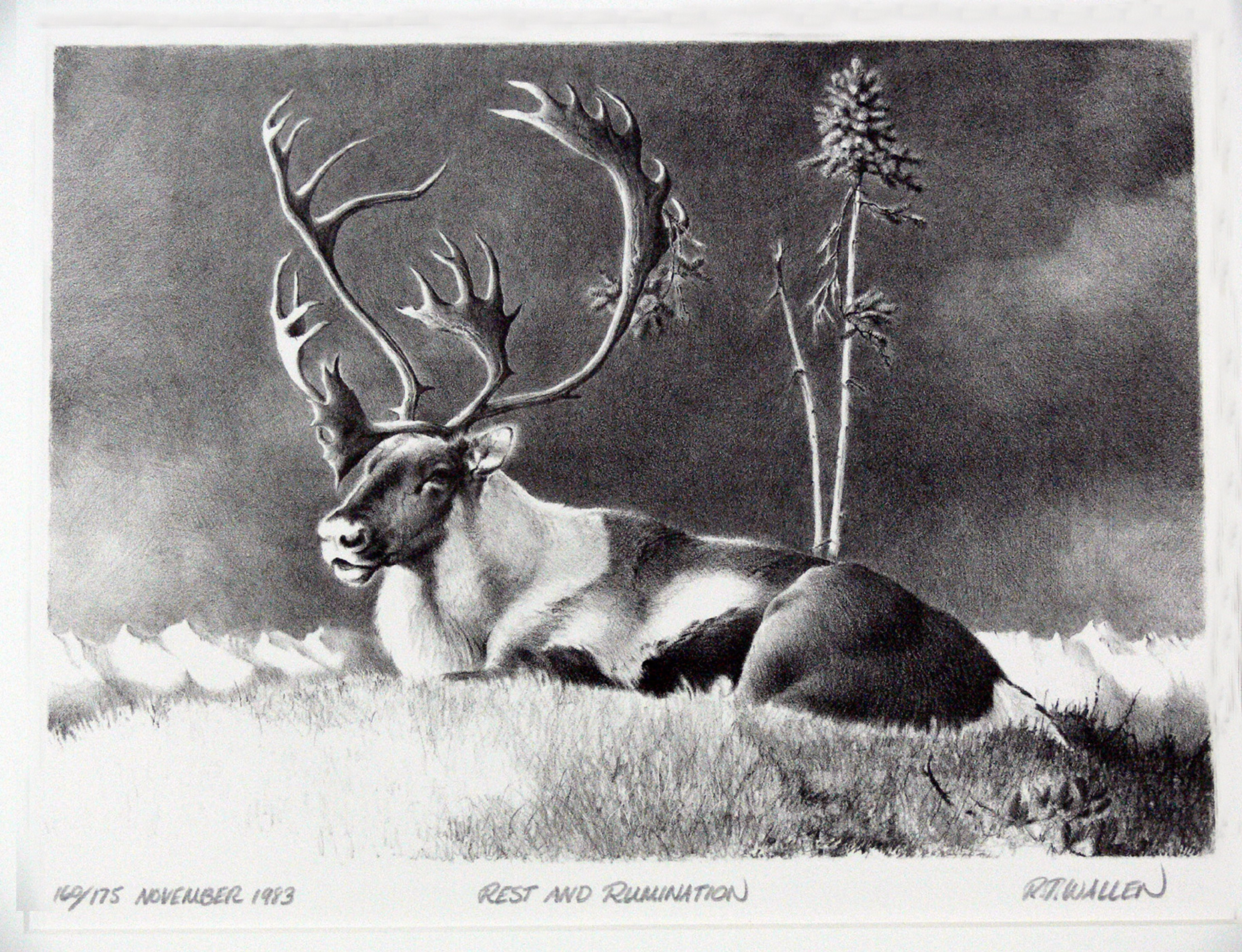 Rest and Rumination
Edition 175 plus 25 special edition prints for Friends of Alaska
The same bull caribou portrayed in Shining Armor lies resting after the exertion of polishing his antlers on a small tree. A broken branch of the tree still hangs from his antlers as he ruminates.
Approximate dimensions:
Paper size 14" x 18"
Image size: 10" x 14"
Price: $475 each or $800 for pair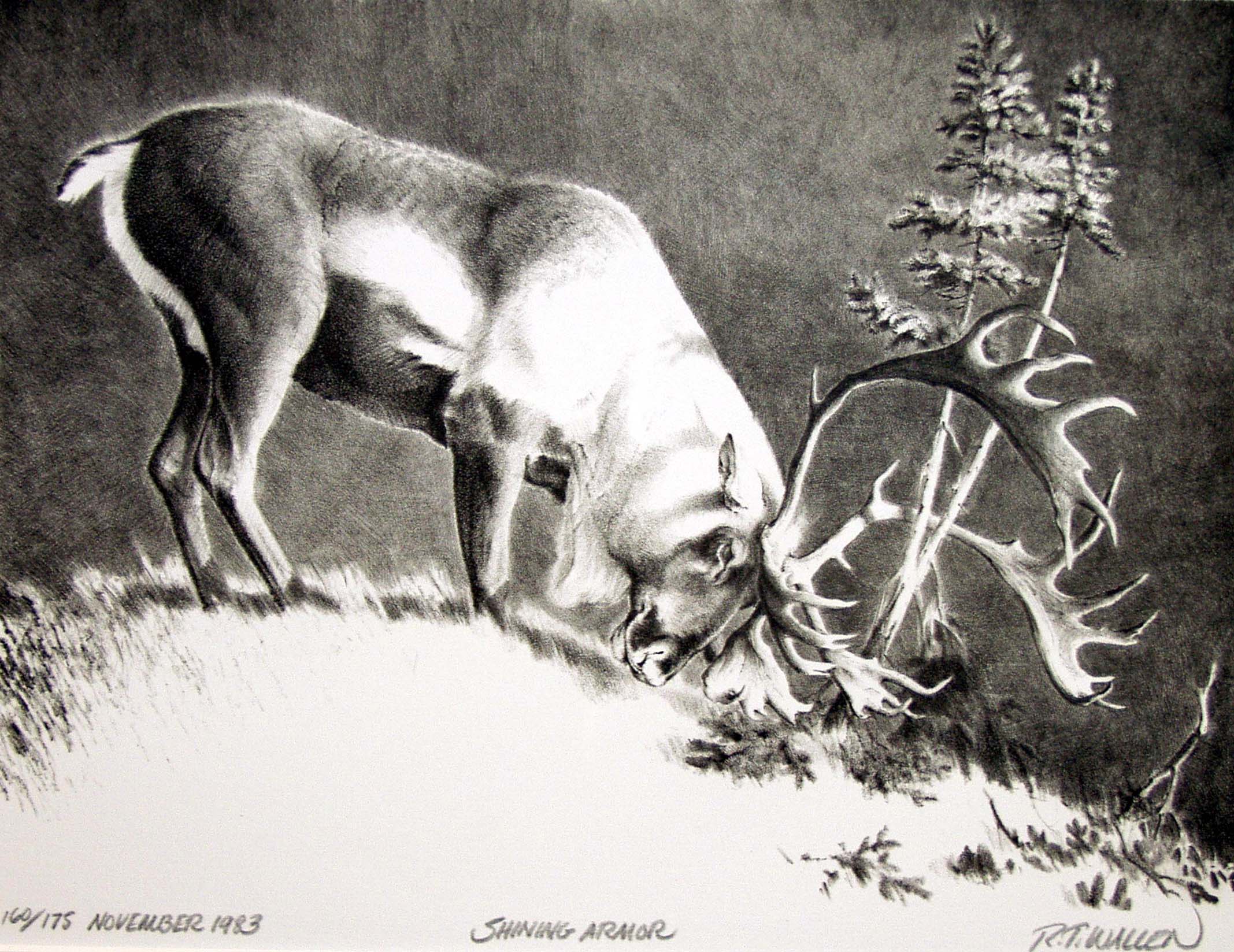 Shining Armor Edition 175
Plus 25 special edition prints for Friends of Alaska
A study of an Alaska barren-ground caribou. Caribou wear a rather scruffy or patchy pelt through the warm summer months, which includes the remnants of the previous year's still-shedding coat. They also carry new, growing antlers, still soft and incompletely formed in their velvety sheaths of skin. September brings forth the full splendor of caribou, with thick new coats of white, gray, and black. The velvet antler sheaths dry and crack, and the naked bony antlers show red at first and then, with age and wear, various hues of yellow and whitish gray. The bulls thrash their antlers in any convenient shrub, polishing them until the beams and tines shine bony bright. As the season advances, rubbing trees stand denuded of branches while the bulls, white-bearded and silvery-flanked, spar with each other, sending the clash of battle ringing across the north. Twenty-five special "Friends of Alaska" prints of this and its companion print, Rest and Rumination, were donated to the Friends of Alaska, a conservation group.
Approximate dimensions:
Paper size: 14" x 18"
Image size: 10" x 14"
Price: $475 each or $800 for pair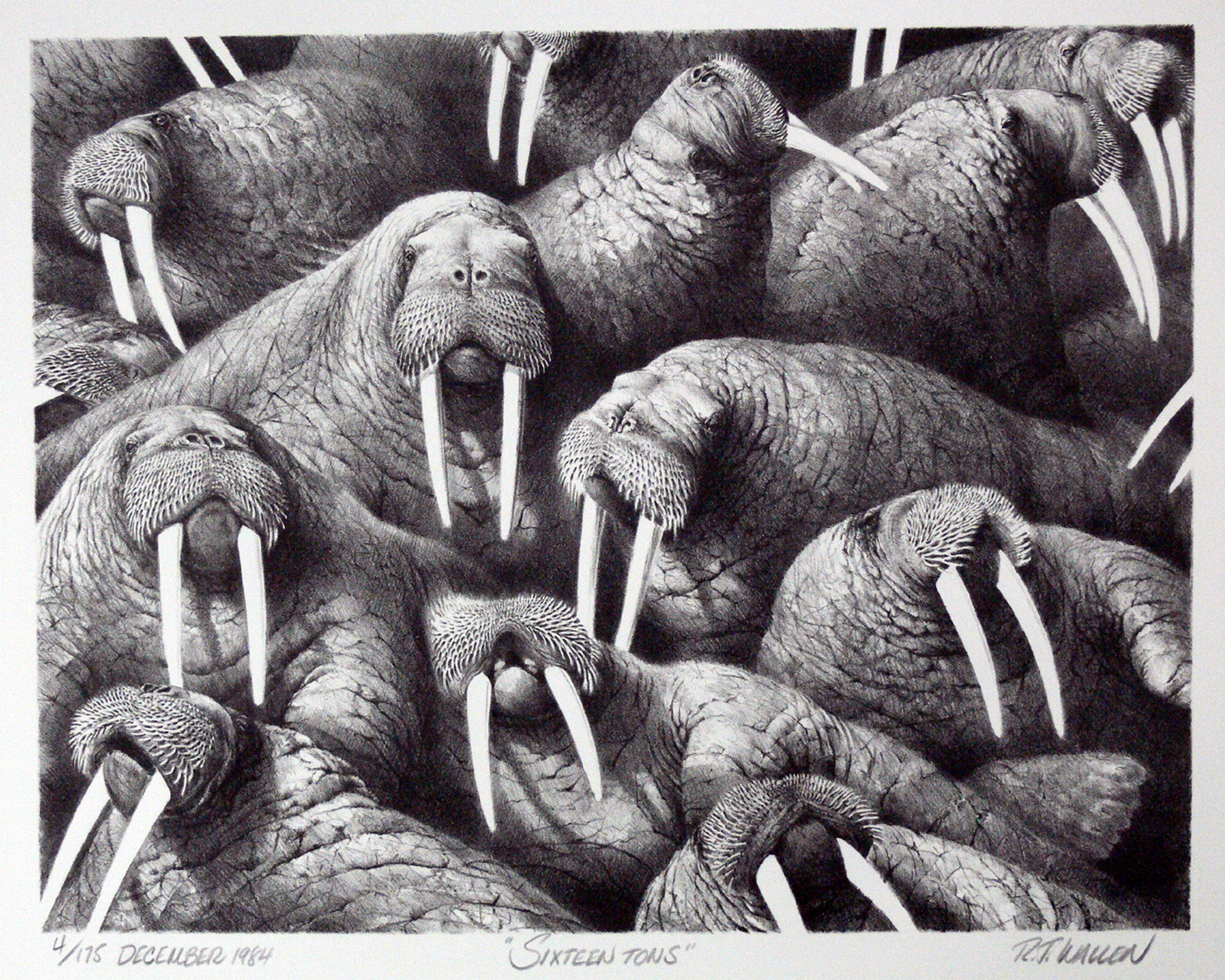 Sixteen Tons
Edition 175
A study of sixteen Alaska walruses in a close group. Before turning to art full time, Wallen was a Department of Fish and Game biologist. In 1965 he was posted on Little Diomede Island as an observer. There he accompanied the local hunters on walrus hunts in an oomiak (skin boat).
Approximate dimensions:
Paper size: 23 ½ " x 20 ¼"
Image size: 18" x 14 ¼"
Price: $1100
Raven Child
Edition 175
Portrait of master artist Nathan Jackson, whose Tlingit name Yeil Yadi means "Raven Child." Jackson and Wallen are longtime friends, and as a wedding gift to Lynn and R.T. Wallen, Jackson created a gold wedding ring with an original Northwest Coast style whale image, appropriate for both Wallen's Norwegian heritage (Wallen comes from "whale land") and his adopted Tlingit clan crest rights.
Approximate dimensions:
Paper size: 21" x 17 ½"
Image size: 16 ½ " x 13 ½"
Price: $475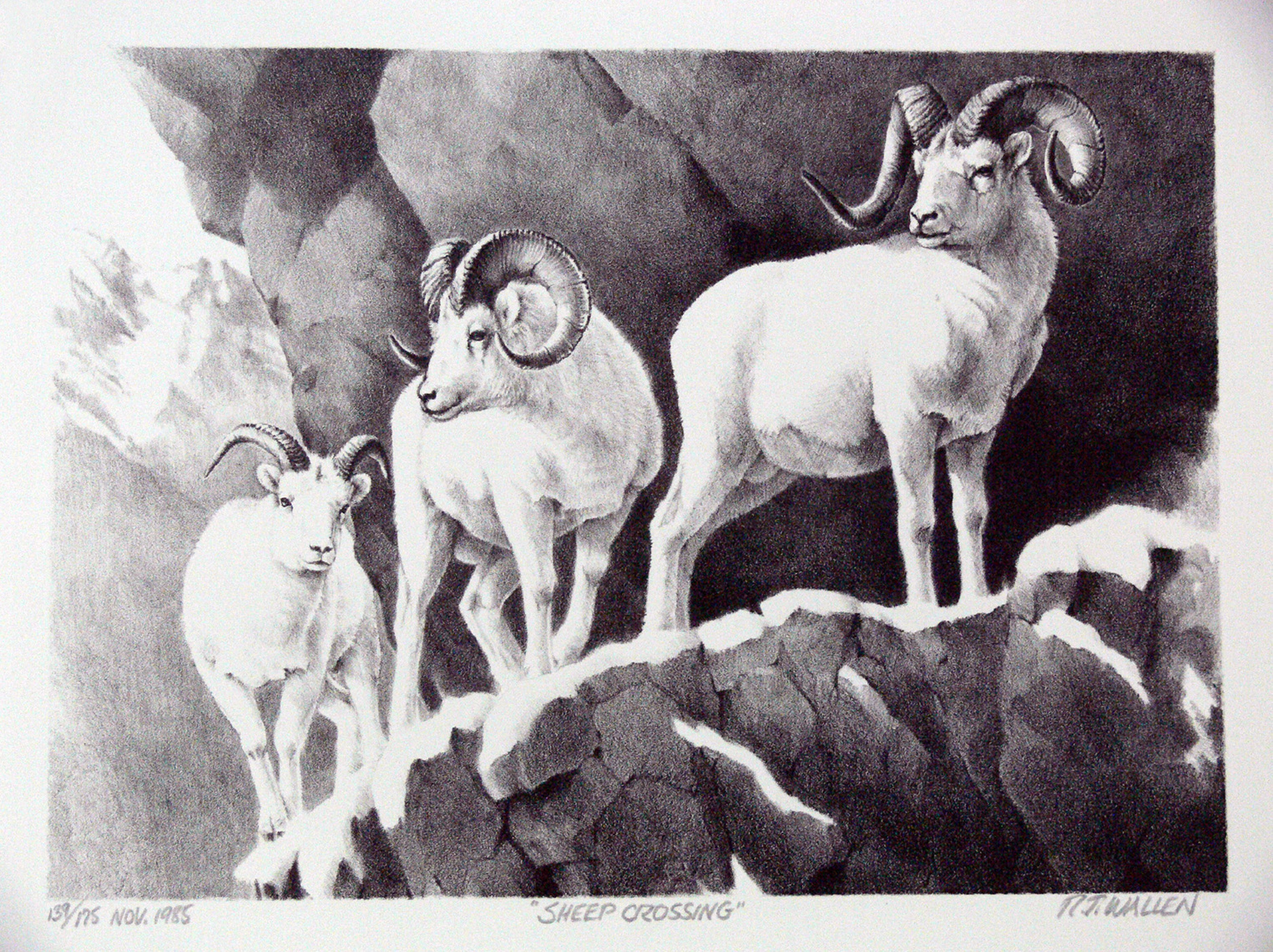 Sheep Crossing
Edition 175
Three Dall sheep on a rocky ledge.
Approximate dimensions:
Paper size:18" x 14"
Image size: 14" x 10"
Price: $475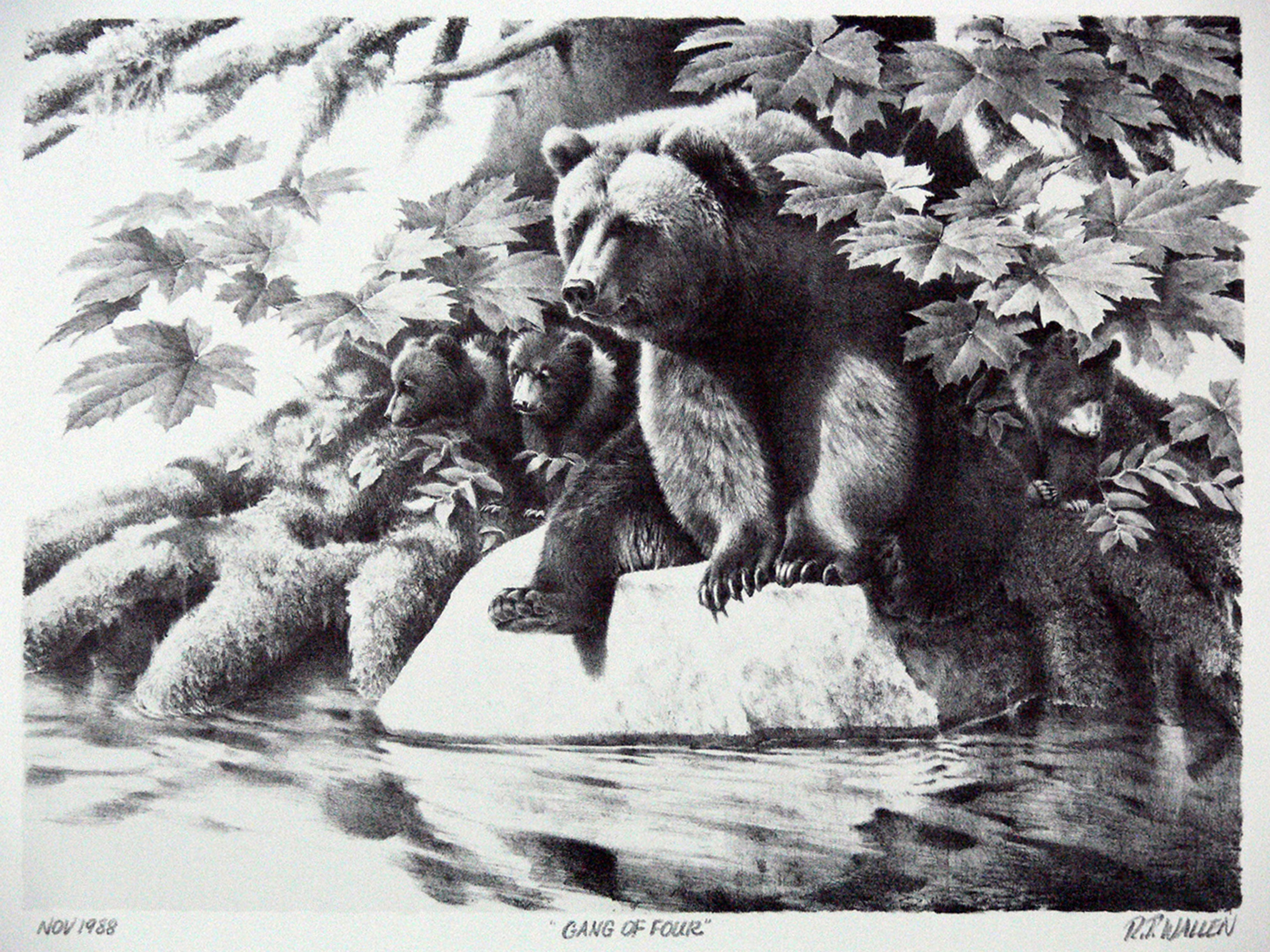 Gang of Four
Edition 185 plus 25 special edition prints for Friends of KTOO
An Alaska brown bear mother and three cubs. This print was the inspiration for a life-scale bronze sculpture of the same name. A special edition of 25 "Friends of KTOO" prints was donated to Juneau's public television station to use as gifts to donors.
Approximate dimensions:
Paper size: 26" x 21"
Image size: 22" x 16"
Price: $1600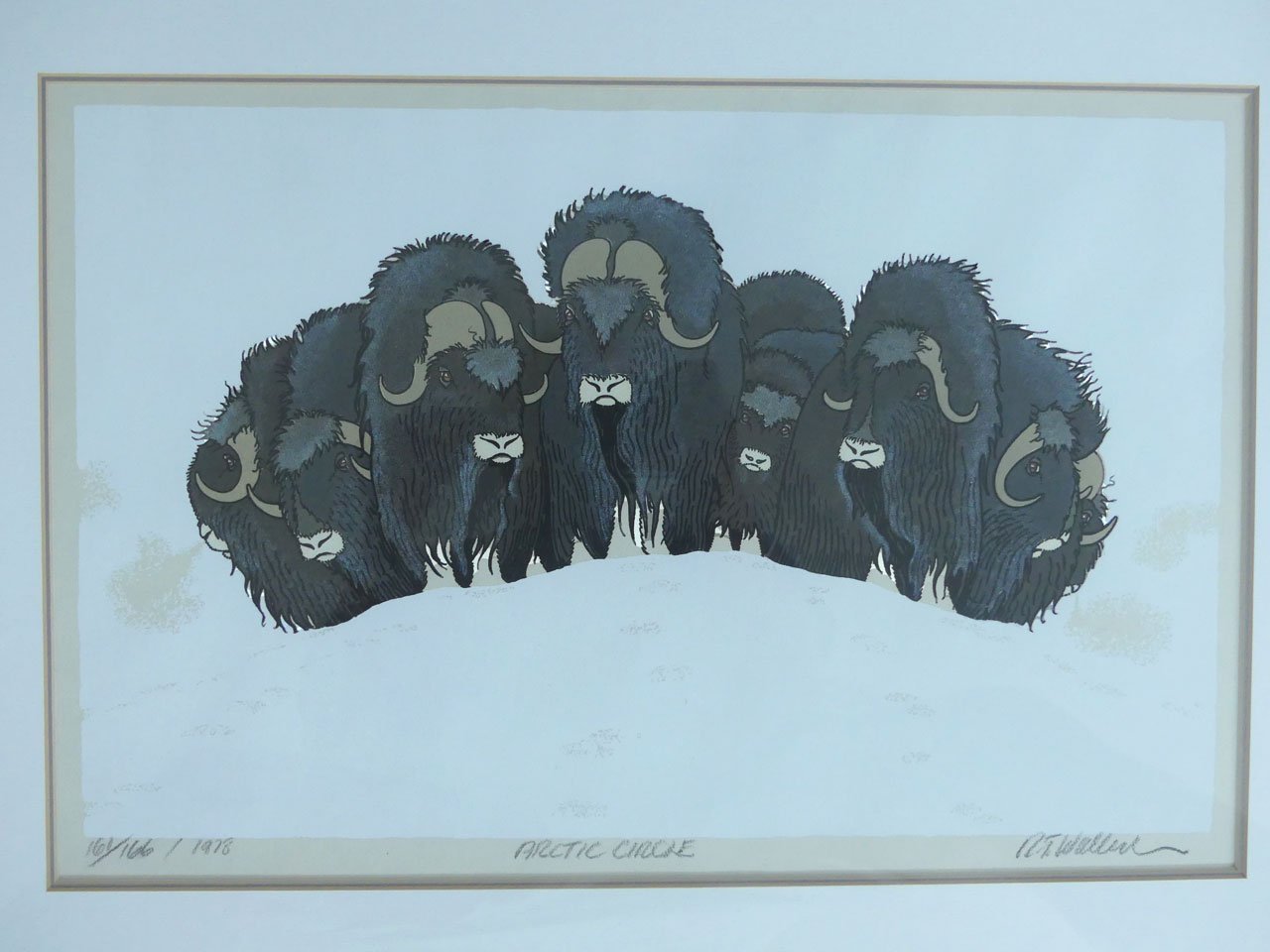 Arctic Circle
Edition 166
Serigraph (silkscreen) of a group of musk oxen gathered in a defensive circle, based on the artist's experiences in transplanting musk oxen from Nunivak Island to Nelson Island while working as a field biologist with the Alaska Department of Fish and Game in the early 1960s.
Image size: 19" x 12" (print is white background, not blue)
Price: $600
NOTE: Arctic Circle was hand-pulled by R.T. Wallen in Juneau, Alaska.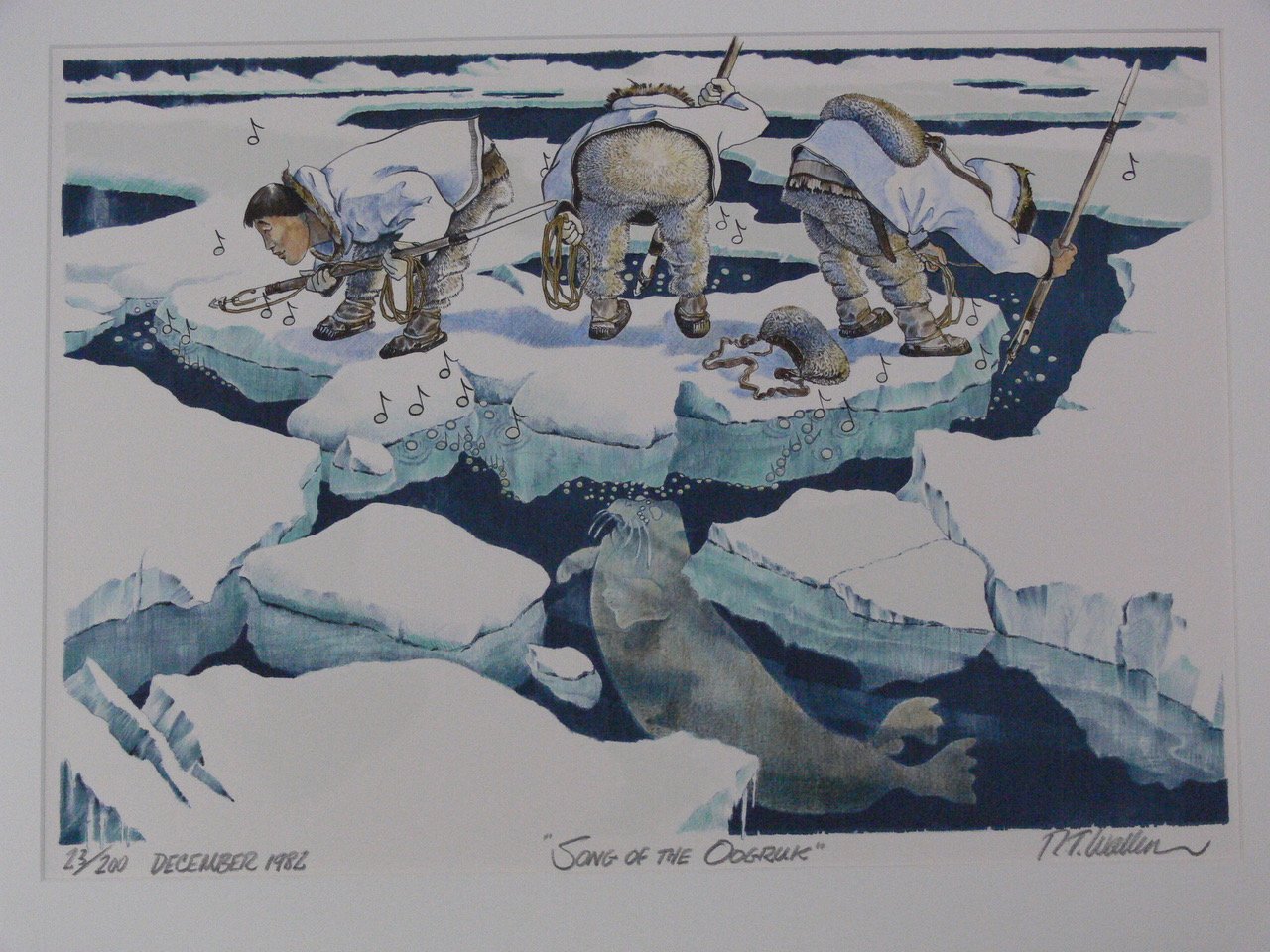 Song of the Oogruk
Edition 200
Eleven color runs on zinc plates and Mylar produced this light-hearted portrayal of Inupiat Eskimo hunters on the pack ice. They attempt to determine the whereabouts of a bearded seal by listening to its "singing" beneath the ice. The musical-note bubbles represent the songs that bearded seals sing during courtship rituals. Oogruk is the Inupiaq word for bearded seal.
Approximate dimensions:
Paper size: 25" x 19"
Image size: 21" x 14 ¼"
Price: $500